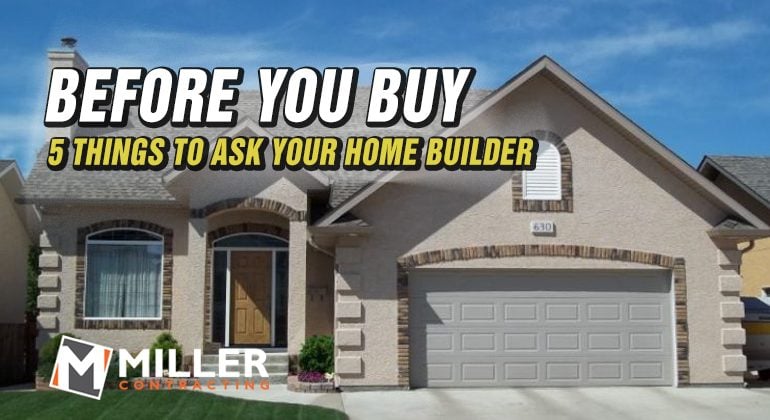 Five Things to Ask your Home Builder
Wednesday, September 12th, 2018 @ 1:47pm
Many times, new home buyers make a decision on a new home based almost entirely on what the house looks like. While looks are important, as the old saying goes – its what's inside that counts!  What is in the walls, and how did it get there?  While you don't need to be a housing expert to make a good decision, you need to be able to ask your potential builder some good questions. That will help weed out the good from the bad.  It will also help you gauge what kind of relationship you are going to have during one of the most important decisions of your life.  Like most other things, building a house is a two-way street. You and your builder should establish a quality relationship right off the bat because you will be in it for the long haul. That's why we have five things to ask your home builder.
"How long have you been in business?" This is a question to help you judge the builders' level of expertise. More importantly, do they have the experience to be able to deal with different challenges and scenarios during your build?  Keep in mind, a corollary to this is how many different projects the builder has successfully completed. A shorter number of years in business can be compensated for by quantity and variety.
"What is your area of expertise?" Like many people, builders gravitate towards things they love. Some become experts in energy-efficient homes, while some are experts in exquisitely fine finishing details. If you are looking for something very specific in your new home that is very valuable to you, find a builder who can satisfy that desire, without sacrificing quality in other areas.
"Do you have insurance and warranty, and what is covered?" Your builder should have liability insurance in case a mistake is made that can become a problem. Especially for custom builders, do they carry Course of Construction insurance?  COC policies will cover typical perils like fire during construction, so that you don't have that worry. One area often overlooked is workers compensation insurance. Check the legislation where you live – often, if you are the property owner, you are responsible for everyone's health and safety. Many contractors will assume that liability from you as part of their contract, providing immense peace of mind. A lawsuit against you in case someone gets hurt building your home is avoidable. Good contractors make sure workers are working safely, and are covered by their policy. As far as warranty goes, your builder should offer at least a five-year structural warranty along with everything covered the first year. Some warranty providers will also cover things like water infiltration, systems coverage, and various lengths of coverage. Some provinces now have mandatory new home warranty; regardless, ask questions so you are clear as to what is covered and what is not.
"What professional associations do you belong to?" To me, this is an indication of a builder's willingness to stay on top of current trends, building codes, and best practices. My parents told me to surround myself with people who I want to be like. Professional builders understand the importance of belonging to their local Home Builders Association or Construction Association, the Chamber of Commerce, Holmes Approved Homes program, or similar professional groups.
"Can I speak to some references?" Professional builders will have developed a good reputation over time and will be able to put you in touch with a few clients. Ask them what their experience was like, and don't just look for the good stuff. Ask how the builder was able to address and rectify challenges that came up during construction. This will give you a feel for how they will be able to handle challenges with you. Online reviews can be valuable as well; be aware that they can more easily be manipulated or outright fake. Don't use them as a substitute for talking to real, live people!
Of course, ask any other questions of your builder that you think are important. This list is not meant to be all, but what I believe will capture the important aspects of your builder. It's a consequential relationship – don't go on a blind date! Be prepared, and look forward with excitement to moving day!
See more at Miller Contracting Ltd.