VICKY'S HOMES
Built By Man. Designed By A Woman.
Vicky's Homes is a National award winning custom home builder that takes pride in designing one of a kind homes.  As a design and build firm, Vicky's Homes does it all!  From designing house plans, building the home, landscaping, furnishing and even decorating!  Vicky's Homes are exclusively tailored to your specifications, and are designed to reflect your own personal style and taste.  But more than a home, Vicky's Homes are sanctuaries of luxury, crafted with attentive detail and inventive designs.
ABOUT VICKY FROM VICKY'S HOMES
---
Vicky is dedicated to quality and service in every aspect of her business. Understanding that customers these days want customization and will work with each potential client with a hands-on approach throughout every aspect of the new home building process.And she is a custom builder whose approach is hands-on throughout every aspect of the new home building process. Vicky provides their clients with comprehensive home completion including decks, landscaping, window treatments and interior decorating too plus our guys at Mike Holmes Inspections will inspect various stages of the home.
Most notably, Vicky brings a woman's perspective to an industry that is traditionally dominated by men. This bring a unique touch to the field of custom home construction, but also provides Vicky with a distinctive viewpoint and understanding of what makes a home truly functional while also aesthetically distinct and appealing.
For over 19 years and counting, Vicky has continued to provide quality custom homes that are created with the pride and dedication that comes from a personal passion that considers home construction an art form and are very much"built by man, yet designed by a woman."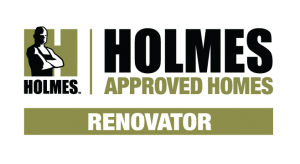 VICKY'S HOMES SERVICE LOCATION
Vicky's Homes services the following area but is not limited to:
VICKY'S HOMES & HOLMES APPROVED HOMES
Edmonton Awards
2022
Builder of the Year – Small Volume – Edmonton
Winner – Best Infill 2000 – 4000 sq ft
Winner – Best Renovation Under $150 K
Winner – Best Exterior Renovation – Vilhelm
Winner – Best Renovation $300 K – 600 K
Winner – Best Single Family Home $700 K – 850 K
Winner – Best Single Family Home $1 Million – 1.5 Million
Winner – Best Single Family Home Over $1.5 Million
2021
Winner – Builder of the Year Small Volume
Winner – Best Home $450 K – 500 K
Winner – Best Home $850 K – 1 Million
Winner – Best Home $1 Million – 1.5 Million
Winner – Best Home Over $1.5 Million
Winner – Best Direct Mail – Staycation
Best Brochure – Vicky's Homes Magazine
2020
Builder of the Year – Small Volume
Winner – Best Exterior Renovation – Donsdale
Winner – Best Home Renovation – $600 K – 1 Million – Donsdale
Winner – Best Home $1 – 1.5 Million VeraCruz, Viyona, Vivaldi
Alberta Awards
2022
Winner – Builder of the Year – Alberta
Finalist – Best Single Family Home – $800K – 1 Million
Winner – Best Single Family Home $1 Million – 1.5 Million
Finalist – Best Single Family Home Over $1.5 Million
Finalist – Exterior and Kitchen Renovation
2021
Winner – Builder of the Year
Winner – Best Estate Home Over $1 Million
Finalist – Best Estate Home $800 K – 1 Million
Finalist – Best Estate Home Over $1 Million
Finalist – Best Infill
Finalist – Renovator's Choice
2020
Winner – Best Renovation Over $500 K
Finalist – Best Home $600 K – 800 K
National Awards for Housing Excellence
2022
National Finalist Winner – Best Custom Kitchen
National Finalist – Best Bedroom/Suite
National Finalist – Best Kitchen Renovation
National Finalist – Best Exterior Renovation
National Awards for Housing Excellence – Finalist – Best Single Room Renovation
National Finalist – Best Whole Home Renovation $400 K – 600 K
National Finalist – Best Single Room Renovation
Finalist – Best Whole Home Renovation Under $200 K
2021
National Awards for Housing Excellence
Finalist – Best Detached Home Over 5000 sq ft Verity III
National Finalist – Best Kitchen
National Finalist – Best Home Office
National Winner – Best Bathroom
National Finalist – Best Interior Decorating
2020
National Finalist – Best Kitchen Renovation Over $100 K
National Finalist – Best Bathroom Renovation
National Finalist – Best Any Space
Vicky's Homes
5130 Woolsey Link NW
Edmonton
Alberta
T6W 0S2
Canada