RDC FINE HOMES
Healthy Homes, Happy Families
Custom Home Builder & Renovator
For over 20 years, RDC Fine Homes has been specializing in building breathtaking, beautiful custom homes throughout the sea to sky Corridor in Whistler, British Columbia. These are energy efficient homes that stand brilliantly within the landscape, working with the surrounding environment to enhance the beauty and resiliency of top construction practices. Every RDC Fine Home constructed is a testament to high performance technology with the ultimate result being homeowner health, comfort and energy efficiency.
Mike Holmes Approved
Custom homes and renovations by RDC Fine Homes have Mike Holmes' seal of approval. This means that each home goes through various stages of building inspections during various construction stages. The result? A home built right the first time. If you are looking for the best renovation company in Whistler or Squamish, RDC Fine Homes will deliver a home built to Mike Holmes' standards.
Building Custom Homes in BC
RDC Fine Homes specializes in building healthy homes that create comfortable living environments for homeowners.
The Blueberry Hill project was a Georgie Awards Finalist in 2018 and is Energy Star certified as well as a Holmes Approved Home. It features a beautiful backyard with views to Whistler and Blackcomb, a floor-ceiling limestone fireplace and a bedroom and bathroom on the main floor for accessibility. It also has effective R values: Walls R29 Floor R14 Roof R58. Read more about the project here.
The Crumpit Woods Oasis home features a custom oversize gutter system to maximize rain collection. The lower floor contains a studio suite with a gym and climbing wall. This home is also Built Green Platinum certified with an EnerGuide rating of 85. The home is also a Holmes Approved Home.
Custom Renovations in Whistler
Home renovations and home improvement projects are a great way to add value to your property. Kitchen and bathroom renovations and additions can help maximize useable space in your home. A renovation also provides homeowners with the opportunity to address issues in poorly built homes. RDC Fine homes is a leader in home renovations in Whistler, Squamish, Pemberton and North Shore. A renovation project with RDC Fine Homes is a renovation DONE RIGHT THE FIRST TIME. Check out some of the renovation projects:
Check out this beautiful kitchen renovation called Pinnacle Ridge Kitchen. The kitchen features modern Energy Star appliances, Energy Star triple paned Low-E argon windows and 2lb spray foam insulation. The challenge for this kitchen renovation was to adapt the kitchen design to match the existing interior finishes. The integrated appliance garage and built in pantry will help the homeowners minimize clutter. More about this kitchen renovation here.
Award Winning Builder and Renovator
RDC Fine Homes has received multiple Georgie Awards Finalist awards for their renovation projects.
Small Business BC Awards

Best Apprentice Training Winner 2019

CHBA National Awards for Housing Excellence
High-Performance Custom Homes in Whistler and Squamish
RDC uses proven high-performance systems such as Structurally Insulated Panels (SIPs), Insulated Concrete Foundations (ICF) and Heat Recovery Ventilators (fresh air delivery systems) in their builds. This ensures an air tight building envelope with a proper ventilation system for healthy indoor air quality. This provides homeowners with a comfortable indoor temperature in all seasons.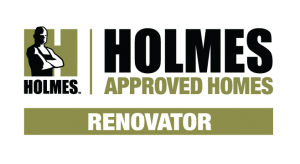 RDC FINE HOMES SERVICE LOCATION
RDC Fine Homes services the following areas but is not limited to:
Whistler
Pemberton
Squamish
North Shore
RDC & HOLMES APPROVED HOMES
RDC FINE HOMES & BASF HP+ WALL SYSTEM
RDC recently built one of their homes with BASF's new HP+ Wall Systems in Whistler, British Columbia. RDC's goal is to build a net zero house which can produce as much energy as it uses and to do that they need a well insulated wall. Watch below to see how RDC and BASF are going above minimum code to build high quality homes.
RDC Fine Homes explain the process of radon mitigation in their Whistler's Emerald Estates neighbourhood. Bob Deeks provides details about the Radon Mitigation work underway. The work includes the use of Radon Environmental's 'Radom Guard' and 'Radon Block'.
2007 – Best Single Family Landscape Design Renovation – Toad Hollow
2007 – Best Residential Renovation over $650,000 – Toad Hollow
2008 – CHBABC – Beaver Award, Outstanding Builder Member – Bob Deeks
2008 – Best Residential Renovation under $750,000 – Iatan Residence
2009 – CHBABC – Presidents Award – Bob Deeks
2010 – Best Innovation Technical Feature – Solar Panel Cooling & Indoor Aid Pre-Heat System
2011 – Best Single Family Detached Home up to 2,000 square feet over $350,000 – Read Alley
2011 – Best Kitchen under $40,000, New – Read Alley Kitchen
2011/2012 – BCHomes Magazine, BC 20 Most Influential People in Residential Construction – Bob Deeks
2015 – Business Person of the Year (Whistler Chamber of Commerce) – Bob Deeks
2014 – Whistler Chamber of Commerce, Sustainability in Action Award – Bob Deeks
2016 – Production Detached – 2,001 – 3,000 square feet – Crumpit Woods – Sky Pilot Drive
2016 – Best Production Certified Home – Crumpit Woods – Sky Pilot
2016 – Best Kitchen under $100,000 – Fairway Residence
2017 – Renovator – Customer Satisfaction
2017 – Detached Homes – Custom under 2,500 square feet – Crumpit Woods Oasis
2017 – Best Website
2017 – Best Production Certified Home – Sky Pilot Drive Silver
2017 – Best Corporate/Project Website
2018 – Renovator – Customer Satisfaction
RDC Fine Homes
1390 Alpha Lake Rd #203
Whistler
British Columbia
V0N 1B1
Canada