Fine Homes By Gibraltar
Award Winning Builder in Newfoundland
Fine Homes By Gibraltar is Mike Holmes' FIRST Holmes Approved Homes builder in St. John's, Newfoundland. Since 2000, Gibraltar has been designing and constructing high-end modern homes and condominiums that surpass quality standards and boast style. Being a Holmes Approved builder means that each home they construct undergoes unbiased inspections during various stages of construction. The result? A better built home.
Winning the prestigious Builder of the Year from the Canadian Home Builders Association – NL, eight times, Gibraltar is truly a leader in the field of residential construction.​ Their homes are Energy Star certified and they are also a member of the Canadian Home Builder's Association Net Zero Energy Housing Council.
Being a part of the Holmes Approved program also means that each renovation they undertake also gets a Mike Holmes Inspection before the renovation starts. Fine Homes By Gibraltar also has the RenoMark™ certification, so you know your renovation was done right.
NEWFOUNDLAND'S NET ZERO BUILDER
---
Fine Homes By Gibraltar prides themselves as forward thinking home builders by being Newfoundland's Net Zero Builder. A Zero Homes can produce as much clean energy as it consume meaning it's up to 80% more energy efficient than typical new homes and they use renewable energy systems to produce the remaining energy they need. In a Net Zero Home, every part of the house works together to provide consistent temperatures throughout, prevent drafts, and filter clean indoor air to reduce dust and allergens. This results in a remarkable energy performance and absolute comfort with a home that's in the forefront of sustainability.
HOLMES APPROVED HOMES RENOVATOR
---
Being a Holmes Approved Homes Renovators means you're a renovator that has demonstrated quality craftsmanship, building custom homes and additions over the years and that's exactly what Fine Homes by Gibraltar has done. Gibraltar is a trusted source for custom home designs and professional home renovation projects. With their passion in home customization, they're proud to serve as a leading home builder in St. John's Newfoundland.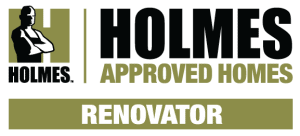 FINE HOMES BY GIBRALTAR SERVICE LOCATION
Gibraltar Development Ltd. services the following areas:
St. John's
Mount Pearl
CBS
FINE HOMES BY GIBRALTAR & HOLMES APPROVED HOMES
2018 
CHBA BERG Builders Excellence – New Homes Award – Multi-Family (Glendale Gardens)

CHBA BERG Builders Excellence – Marketing of New Homes Award (Glendale Gardens)

THREE BEST RATED Excellence Award – Home Builders
2017 
CHBA BERG Builders Excellence – New Homes Award – Undero 1500 sq/ft (PARK21)
CHBA BERG Builders Excellence – New Homes Award – Multi-Family (PARK21)
CHBA BERG Builders Excellence – Marketing of New Homes Award (Glendale Gardens)
Pearl Award – Urban Design & Development (PARK21)
2016 
CHBA BERG Builders Excellence – Builder Of The Year Award – Multi-Family (Wellington on Rhodora)
2015 
CHBA BERG Builders Excellence – Builders Of The Year Award – Multi-Family (Wellington on Rhodora)
2014 
CHBA HomeShow Exhibitor Award – Best Marketing
2008
CHBA BERG Builders Excellence – Renovator Of The Year (Five-Nine on Roosevelt)

CHBA BERG Builders Excellence – Builder Of The Year Award (East Village at Quidi Vidi)
2005
CHBA BERG Builders Excellence – Builder Of The Year Award (East Village at Quidi Vidi)
2004 
CHBA BERG Builders Excellence – Builder Of The Year Award (Hillview Trails)
2003
CHBA BERG Builders Excellence – Builder Of The Year Award – Multi-Family (West Highlands)
2002
CHBA BERG Builders Excellence – Builder Of The Year Award – Multi-Family (Brittany on Bond)
Gibraltar Homes
33 Pippy Place, Suite 103
St. John's
Newfoundland and Labrador
A1B 3X2
Canada