CHARETTE CUSTOM HOMES INC.
Building Homes With A Standard Of Excellence
Charette Custom Homes offers nothing short of a custom experience, taking pride in the fact that no two builds are ever the same. By offering an in-house designer to complete custom plans to suit each and every individual need, Charette builds skillfully crafted homes that are unique to every client. Charette Custom Homes focuses on quality, energy efficiency and customer service to build a solid reputation and relationship with every client that lasts long after the project is complete. A Charette Custom Home goes above and beyond all expectations, from its construction and finishes to the level and quality of service, because building your custom home is not just your dream; it's also Charette's.
CHARETTE CUSTOM HOMES HISTORY
---
For the past 15 years, Marc-Antoine Charette has been forging his own path in the competitive construction industry. With every project he's worked on, his reputation as a reliable and gifted homebuilder has increased. And now since 2007, Marc and his wife Crystal decided to combine their skills and offer a service focused on quality and customer service. They strive for core values that continues long after the project is complete.
CHARETTE CUSTOM HOMES PROCESS
---
1. Book your first pre-appointment
Charette believes in a simple process which begins by getting together with the potential homeowner for a brief meeting to understand one another. They know it's important to have confidence and trust in your builder and to achieve this; they like to begin by meeting with their clients to answer any questions.
2. Book your appointment
The second step it the official appointment where the clients will bring their plans, colors and ideas to this meeting. If you feel like you're not ready, Charette will work with you during this appointment to create a plan of the home you dream of. In this appointment we will go over budget, style, time frame as well as walking you through the development of your home to be.
3. Contract Signing
Once everything is agreed up, a detailed contract will come together ensuring that both partied agree to the terms, conditions and closing date. After this is signed we apply for permit and begin this exciting journey.
4. Walk through
The final step is when the home is complete; Charette will walk through your home to make sure it has met all your expectations. After the approval, the keys belong to you.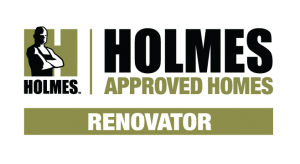 CHARETTE CUSTOM HOMES SERVICE LOCATION
Charette Custom Homes services the following area but is not limited to:
CHARETTE CUSTOM HOMES INC. & HOLMES APPROVED HOMES
Charette Custom Homes Inc.
Perth Rd
Inverary
Ontario
K0H 1X0
Canada