HORIZON PACIFIC
Solid From The Ground Up.
Environmentally Friendly Construction
As a BUILT GREEN® builder, Horizon supports environmentally friendly residential construction and is winner of a 2015 Canadian Home Builders' Association award for Project of the Year.
Custom Homes
Custom home building for Horizon Pacific is all about early collaboration, planning, using the right materials and the best installation practices. Each home built by Horizon goes through various stages home inspections by Mike Holmes Inspections. The result? PEACE OF MIND for homebuyers. Check out this beautiful custom home here.
Home Renovations
Horizon Pacific Contracting specializes in home additions, kitchen and bathroom renovations and more. And being part of the Holmes Approved Homes program means that each renovation goes through an inspection by a Mike Holmes Inspector.
Step Up Program
Horizon Pacific established the Step Up Program in their community to renovate homes for families facing mobility, health or mental health issues. Find out more about the program here.
From traditional family homes to state-of-the art luxury custom homes and designs, Horizon Pacific in Victoria, BC can bring your dreams to life, adding value every step of the way.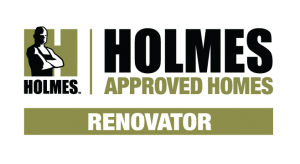 Horizon Pacific Contracting Service Location
Horizon Pacific Contracting services the following area but is not limited to:
HORIZON PACIFIC & HOLMES APPROVED HOMES
VICA Member (Vancouver Island Construction Association)s
LEED Platinum (Certification almost complete for Echo Drive at Prospect Lake Custom Home – The first such home certification in Victoria BC)
CHBA-VI Member (Canadian Home Builders' Association of Vancouver Island)
BUILT GREEN® Certified Home Builder
2015 CHBA-VI Project of the Year – FIR TREE GLENN
Horizon Pacific
104, 4226 Commerce Cir
Victoria
Ontario
V8Z 6N6
Canada