EFFECT HOME BUILDERS
Energy Efficient Homes
Every Effect Home is unique, energy-efficient and sophisticatedly refined. They incorporate practical, forward-thinking solutions based on solid construction, research and innovation to create healthier, quieter and more comfortable living environments. Effect Home Builders in Edmonton seamlessly merge energy efficiency with design excellence to transform your visions into reality, creating homes that not only reflect your values—they reflect the way you want to live.
New Homes in Edmonton
---
Effect Home Builders is not only a Holmes Approved Homes Builder and Renovator, they also are a certified Net Zero Energy Builder, Built Green Certified and R2000 certified. Being a Holmes Approved Homes builder means that each of their projects go through a series of inspections through Mike Holmes Inspections during various stages of construction. That means PEACE OF MIND for homeowners.
Net Zero Energy Homes in Edmonton
---
Effect Home Builders will build you a strong, energy efficient home and it all starts with an energy efficient building envelope. They also incorporate solar energy, energy efficient appliances and water conservation in their home designs. To read more about Net Zero Energy homes, click here.
Custom Homes and Renovations in Edmonton
---
Effect Home Builders are known for quality, energy efficient renovations. Their building expertise, together with the Holmes Approved Homes program, ensures a renovation that will improve the performance of your home. Check out some of their impressive work:
The Belgravia Green is a 1540 sq ft bungalow. It was renovated to become a Net Zero Energy home and won many various awards such as the CHBA Provincial Green Home Award, the Sustainable Award from the American Concrete Association. Read more about the project here.
The Littlehorn Garage suite has triple pane, Low-E windows filled with argan gas, increased insulation in exterior walls and is a Holmes Approved Renovation. For this project, Effect Home Builders converted the area above the garage into an energy efficient living space. Read more about the project here.
The Eagle's Nest has an Energuide rating of 84 and features a courtyard and polished concrete floors. Read more about the project here.
First Off The Grid Office in Edmonton
---
In 2018, Effect Home Builders renovated a 1940's building to become the city's most energy efficient office builder. This is how they did it:
High performance building envelope using BASF HP+ Wall system assembly featuring Walltite® Spray Foam and Neopor® graphite-enhanced exterior insulation system
16 solar modules on the new office's roof
A Micro Combined Heat Power (mCHP) unit provides the heat for the building
Read more about the project here.
Looking for a new home builder or a custom home builder in Edmonton? Read more about considerations for choosing your new home builder here.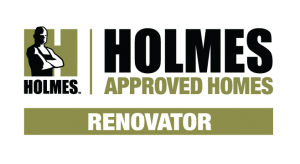 EFFECT HOMES SERVICE LOCATIONS
Effect Homes services the following area but is not limited to:
EFFECT HOME BUILDERS & HOLMES APPROVED HOMES
2020 – Top Choice Home Builder in Edmonton
2015 – 2020 – Best of Houzz
2018, 2019 – Top 3 Rated Home Builder in Edmonton
2018 – High Performance HP+ Builder of the Year
2011 – 2019 – Environmental Recognition Award – Canadian Home Builders' Association (CHBA)
2016 – Best Estate Home – CHBA
2015 – Alberta Green Home Award – CHBA
2013 – Sustainable Award – Alberta Chapter of American Concrete Institute
2013 – Emerald Awards Finalist
2012 – National and Provincial Green Home Award – CHBA
2012 – Best Infill Project – Green Home of the Year Awards
2008, 2009 – EnviroHome Award – CHBA
Effect Home Builders
8819 92 Street NW
Edmonton
Alberta
T6C 3P9
Canada