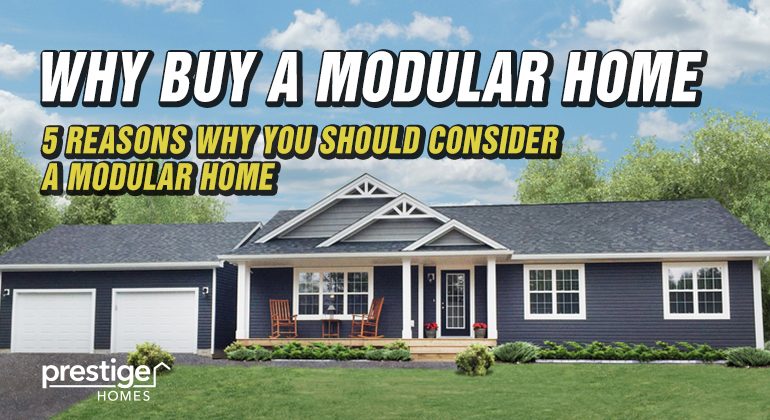 Why Buy A Modular Home
Friday, January 10th, 2020 @ 2:48pm
Why buy a modular home? From the experts at Prestige Homes, these are the top reasons:
5. MATERIALS PROTECTED FROM THE WEATHER
---
Your home is built indoors in a controlled factory environment, which means it is not exposed to Mother Nature. This also means construction can happen all year round with no weather delays or damage.
4. HIGHLY CUSTOMIZED DESIGNS
---
You have a tremendous amount of design flexibility-Every Prestige home can be customized – both in terms of the actual design and with thousands of finish options and colours so you can really get the house you've been dreaming of.
3. GREENER CONSTRUCTION
---
Prestige Homes takes their responsibility to the environment really seriously. They've spent hundreds of hours figuring out the best ways to use materials so there's as little waste as possible. For example, the small, off-cut pieces of lumber and sheathing get re-purposed as blocking in the walls for things like kitchen cabinets, wall-mounted TVs, and baseboard heaters. So less goes to the landfill and you get a stronger, safer, greener home.
2. AIR TIGHT BUILDING ENVELOPE
---
Prestige's construction process allows them to build an extremely airtight building envelope. They use a single piece of vapour barrier on each exterior wall. They place gaskets where exterior walls meet in corners and along the floor & ceiling. And because they build from the inside out, they can completely seal penetrations through the walls for things like electrical outlets and plumbing pipes where air leaks often occur. So that means lower heating & cooling costs and lower costs for the homeowner over the long term.
1. HIGH QUALITY
---
And lastly, a controlled factory setting means better quality control standards. Prestige Homes does over 360 quality inspections on every home they build to make sure they're built right.
WHERE TO BUY
---
Prestige Homes are sold through their network of authorized dealers throughout Atlantic Canada and Maine.